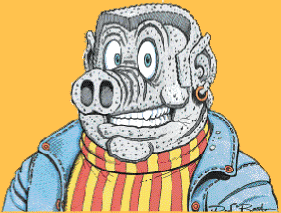 ...is just a summary about Betoniporsas.

Betoniporsas is uptempo-nonconventional-lyrics-kids music in finnish.
Legendary duck artist Don Rosa draw the front and back cover.

Want to know more about Betoniporsas?

Send an e-mail to and ask anything. Betoniporsas will answer...

Short vocabulary:
Nimöni = My name
Sähköine pöstini = My E-mail
Että mitäk ö asiaa lyntivihreiden lisäksi = Dear Betoniporsas...